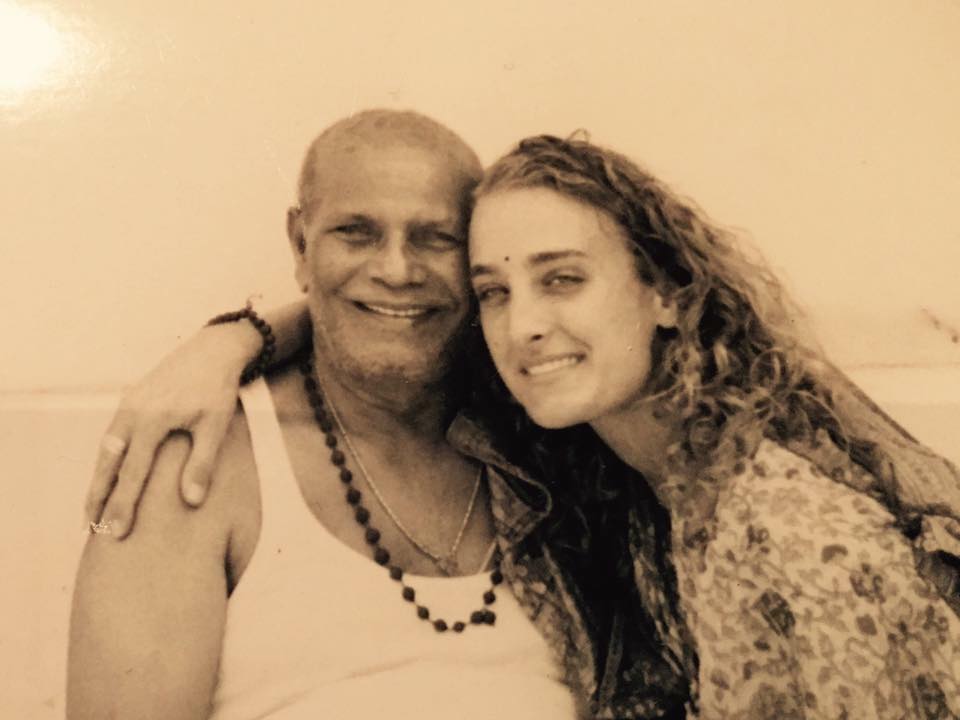 05 Apr

On Ashtanga & The Path of Devotional Practice with Radha

"I believe it was not only my Karma but my Dharma to be a yoga teacher"

"At the point of meeting Guruji I knew deeply – this is my practice, this is my life!"

BIO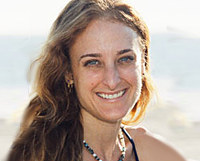 While a junior in college, Heather Duplex began her Ashtanga yoga practice in 1990 with Chuck Miller at Yoga Works in Santa Monica, California. She started teaching in 1995. Inspired by Chuck and the practice, Heather went to Lakshmipuram, Mysore, India, in 1996 to study with Sri K. Pattabhi Jois ("Guruji"). Since then, Heather has been authorized by Guruji and has returned to India many times to study with him. She became a student of Maty Ezraty in 1997 and studied with her for 9 years, teaching at Yoga Works for over 12 years. Heather is an advanced practitioner and has completed the third series. She has also been fortunate over the years to have taken numerous classes and workshops with senior Ashtanga teachers Annie Grover Pace and Richard Freeman. Heather has been studying ayurveda since 2000 and taken several study intensives with ayurvedic teachers Maya Tiwari (A Life of Balance) and Amadea Morningstar (The Ayurvedic Cookbook), as well as healer Paul Pitchford (Healing with Whole Foods). Heather loves the art of cooking and specializes in yogic food cuisine. She and her partner Prem (Anthony Carlisi) teach ongoing Mysore-style classes in Bali for 6-8 months of the year and Kauai, Hawaii for 3-4 months of the year.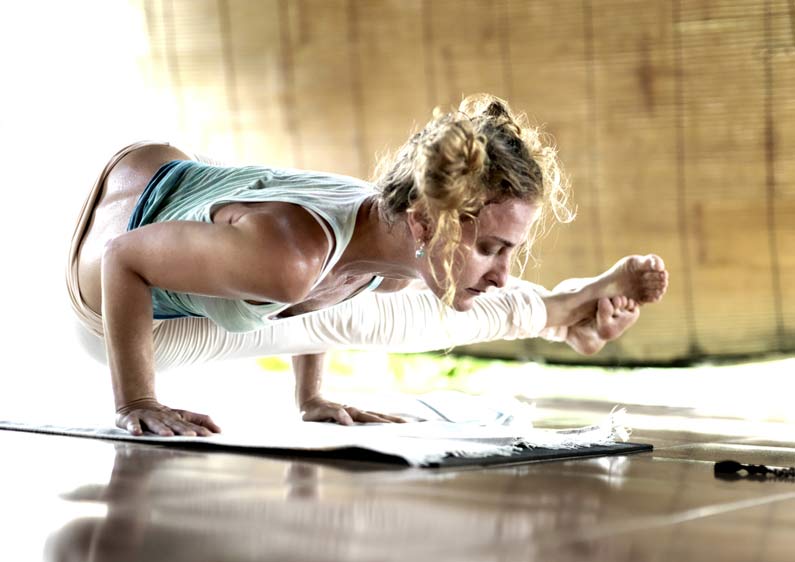 Following a really beautiful & inspired interview with Prem, it has been a pleasure to further interview his partner, Radha who brings such an eloquent portrayal of her journey connecting on the path of Yoga and her deep insights. Her feminine grace and wisdom and devotion is what radiates out in this beautiful interview.
Interview
How did you discover the path of yoga and what was your first encounter with Ashtanga Yoga?
Strangely enough I really knew nothing about yoga. Like zero. The only thing I remember knowing about yoga was watching my grandmother practice. She would practice yoga with a lady called Lilius on T.V., (a famous yoga teacher from the 60's.) When I was 20 I was living in Malibu and was in college; I'm not sure why but one day I came home and looked up the word Yoga in the yellow pages and there were many yoga studios listed. There was a particular one called Yoga Works which caught my attention. I called them and said I want to try a yoga class. They asked me to come down and check out one of the Ashtanga classes. This was my very first class. My first teacher was Chuck Miller who is an amazing Yogi who has been teaching now well over 40 years. I remember when I came out of the first class, saying to him: "I will be a yoga teacher one day." He probably thought I was nuts saying this after just one yoga class. However, somehow this was the impression that it had left on me. I believe it was not only my Karma but my Dharma to be a yoga teacher.
Reflecting back on your journey as a practitioner, what was the most profound milestone/s that has shaped who you are as a practitioner today and that which may have shaped your perspectives along your path as a student of this method?
I was practicing Yoga since 1990 and I was attending classes in Santa Monica with Chuck Miller and some of the other teachers at the studio. In 1995 I decided to travel to India. I didn't really know that much about India or Guruji at the time. I just knew he was the head of the practice so I decided to follow my intuition and passion and quit my job in the fashion industry and told my family. My farther said to me "why don't you go to France like the other girls" but I knew I had to go to India. It was a deep feeling I had inside. When I first arrived, I camped out for 3 months in Mysore. It was profound because I realized I had a karmic connection with India and Guruji immediately. When I met Guruji I experienced something different. Somehow my connection with him solidified my connection to the practice. It is not something I can explain; it was an energetic thing I had experienced. I am still indebted to all my previous teachers. However, at the point of meeting Guruji I knew deeply – "this is my practice, this is my life!"
Reflecting back on your journey as a practitioner, what was the most profound milestone/s that has shaped who you are as a teacher today and that which may have shaped your perspectives along your path as a student of this method?
My journey to India, to study the practice and to have been able to travel the lands of India, has shaped me as a teacher. Although studying Ashtanga was quite profound, the travelling alone itself was a profound experience for me. I was fortunate to travel and visit spiritual ashrams, places and people, such as: Mother Theresa, Papaji, Ramana Maharshi and many sacred places like Rishikesh and many others. I had traveled greatly around and I knew as a teacher I was meant to do that journey and seeking. It was a big part of my path. Not only as a student but something I was supposed to take on as a teacher.
Has your definition of yoga changed over time and how would you describe yoga in your life as it is today?
Yoga is a very different experience of recent. Without sounding cynical or pessimistic, yoga has become much more competitive, and about where you can go and how much you can get, than how it used to be. For instance, how many postures can you get and how many more certificates. Back in the days we would do it because we really loved practicing and I could not imagine not doing it. I only started teaching because I was asked to teach. It seems these days' people want to skip the depth of the practice and go straight into the teaching. I remember being in a conference with Guruji and he said: "you want to teach – you practice a minimum of 10 years." This really resonated with me because 10 years is a long time to practice every day and you need to have that kind of experience before you share it with someone else. Not that you need to have 10 years precisely, but the point is you need to have established that connection with the practice within yourself before you share that depth of experience with other people. I don't think that this is happening much these days and it seems people are putting the cart before the horse as you might say.
The biggest motivation to keep journeying on the path of Ashtanga Yoga
I don't really see it like needing motivation. I see this path as my path, so I accept this. I do it out of devotion, passion and a love. Of course everyone has their days; good days and bad, but I don't need to be prodded to practice or teach. Although I have seen things that can be disappointing in the community, it doesn't affect my personal relationship to my practice or past teachers or guru, or my relationship as a teacher and to the things that change in the Yoga world/community. I believe it is my Dharma to be a teacher in this method and I am grateful for it. I have also accepted it to be so.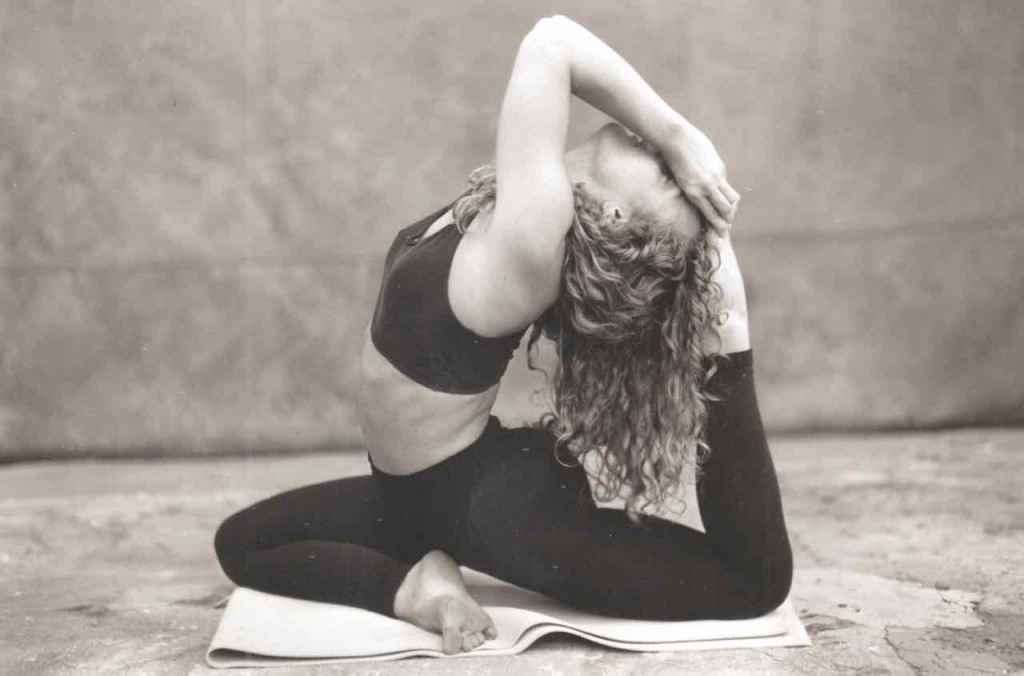 My biggest learning lesson
In the beginning I wasn't kind to myself. I was a strong practitioner and I was really hard on myself. I was fairly rigid with the method. I think only with time and age I learnt to be a little bit more soft and graceful. As a teacher I have always been forgiving with students, however, for myself I have always been hard on myself, like a perfectionist. So this would be the best advice I would give to advanced and new students; do the practice, love yourself, don't beat yourself up if you can do something the way you imagined or want to do because in the end it has nothing to with the practice. How well you do the practice is so trivial on this grand path of Yoga that getting caught up in all that (weather it is holding your ankle in a back bend, or putting your feet on your head or leg behind your head) is really so superficial. People that get caught up in thinking that this is the way are really missing the true gems and beauty of what Yoga really is.
As the Ashtanga practice becomes really popular and spread worldwide with many new students being introduced to the practice through different means, there is a large degree of the practice being diluted or stripped away of its original value and spiritual context. How can we keep the legacy of Sri K Pattabhi Jois alive today?
Things are being stripped away and being diluted; I think that the beauty of the people like myself and Prem and a lot of us that studied with Sri K. Pattabhi Jois and his original students is that we received the Shakti of Guruji. I'm grateful for that. Guruji died at almost 94 yrs. of age and he started practice at 12. I think that is amazing. If you do the maths, that is 82 yrs. in Yoga and that is pretty amazing. It is not easy to come by and have a teacher like that. I feel blessed to have a teacher like that. Today, it is becoming more cookie cutter oriented and individualism is being lost. It is more about following the system exactly to a T. and mimicking poses, doing things on automatic pilot mode. I don't want this to come across or sound rude, however, for me I don't want to see the individuality being lost in the practice because we must remember we are all different people and we all need to be approached in different ways. As such, we need to teach people in a different way and have compassion for different bodies; People are at different ages and men and women practice differently, so we can't just have a one size fits all type of approach – It is not about being clones of one or other. It's about being individuals. Guruji really knew and understood this. He taught people who had diseases, with leprosy, overweight, injury and so forth and he made the practice work for them. It wasn't about whether you can do a backbend and grab your ankle. Does that make you not good enough to practice this system? We have to learn to see people for who they are and this practice is available for everyone at any age, at any time. Saying that, we need to adapt the practice to make it work for each individual. This sometimes means having to do something a little bit differently.
In regards to its original context as a spiritual tool, can you describe what the practice really is and what it means to you as a devout and inspiring practitioner of The Ashtanga Vinyasa yoga method?
The physical practice is a practice we do to take care of our body, keep our body open, detoxified and keep it free from pain. Hopefully with a clean and detoxified body which is open we can sit for longer periods in meditation. As I see it – the routine, the devotion, getting up every day, tuning into the breath, tuning into the practice becomes a spiritual practice. In itself it is not a spiritual practice. It just provides a template for you to go deeper and get closer to other spiritual practices. Hopefully those of us that are on the path of Ashtanga, it doesn't just stop with a physical practice. The practice of Ashtanga as a physical practice is one style of lifestyle practice, it's a dinachary; a daily practice. As I mentioned, it helps to keep the body strong, light, detoxed, helps to keep the breath and bowels moving and helps to keep the body open. However, if we think that doing the physical practice is all there is then we will be sadly shortchanged. This is just one element of Yoga. Hopefully we are going deeper and really understanding what it means to meditate, what it means to have a deeper connection with God and Nature and those things around us. Additionally, fully understanding the Sutras. Not only within our head, but from a lifestyle point of view and truly bringing these into the core of who we are and embodying it as a daily lifestyle.
How did you meet Guruji and what was your most memorable memory/lesson with him?
I met Guruji for the first time in India in Mysore. I have many memorable experiences with him as I visited India many times and also was part of the many tours in the U.S. with him. What I always cherished was that he had a beautiful energy- always smiling, teasing and laughing. He had a sternness about him but he was always loving, funny and playful. When he was in the room and he was adjusting you, he made you feel like you was the only person that was in the room with him. So I take that away and feel really grateful to have had the gift of his presence and I feel really blessed for that. I also had a dream once after a workshop in Encinitas which I have not told many people about. In my dream he was passing me books from a bathtub full of water; he was taking the books out of the bathtub and handing them to me. I don't know what this means but I suppose passing of knowledge. That would be my most memorable experience. Another one was when I was in India on my first or 2nd trip; Guruji wanted me to start intermediate and I was scared. I said "I don't know how to do that" and tried to back out. Guruji said "you know how to do it" – he always gave the confidence and safe space to forge ahead.
Anything else you would like to share that we students and teachers can learn from and be inspired by?
Do your practice. Make it a daily offering, and don't make up excuses. At the same time don't be too rigid about it, get on your mat, be devoted, and see what happens every day. This devotion cultivated over a long period of time to me is what makes a practitioner. Daily practice makes you a steadier person and a steadier teacher. It is this kind of commitment all of my teachers instilled in me. One of my teachers, Maty, who I learned from years after Chuck Miller, taught me about teaching the consistency of doing the practice and being devoted to it. Not skipping practice or days and looking for excuses and at the same time not being too rigid about it. So we need to find the feeling inside of ourselves where the practice is coming from a deep love so that we want to do it rather than it becoming an automatic practice. Like a daily sharing between you and Nature.
I feel really fortunate that my teachers: Chuck, Maty and Guruji instilled this connection with daily practice in me. I also feel really grateful that my teachers taught me to be evolving as a teacher and practitioner and not to not get stuck and be small minded. When you get a student who feels like they can't do something, make them feel that they can or give them a way they can approach the practice where they can feel strong and not feel like they are not worth it because they cannot do a pose a certain way. I feel fortunate I have had teachers that have given that gift to me. They really believed in that individuality and that is the main thing I would stress. I want to be able to teach in a way that is appropriate for each person so they are able to practice in a way that is appropriate for them. Regardless of age, who they are and so forth, and hopefully be able to pass this on to other people.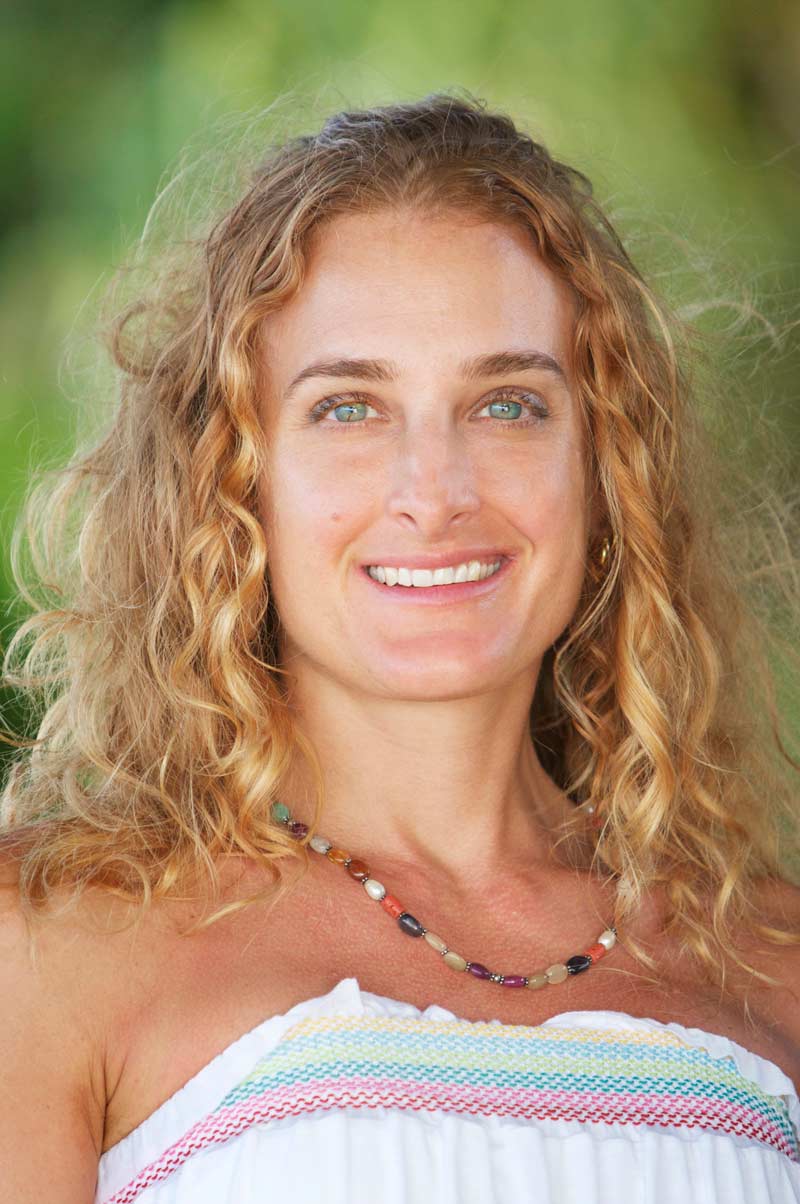 Connect with Radha on Social Media:
Website: http://www.ashtangayogabali.com
FB: Ashtanga Yoga Bali Research Center
Twitter: https://twitter.com/ashtangabali
Youtube: https://www.youtube.com/user/AshtangaWorld
Instagram: https://www.instagram.com/ashtangayogabali/