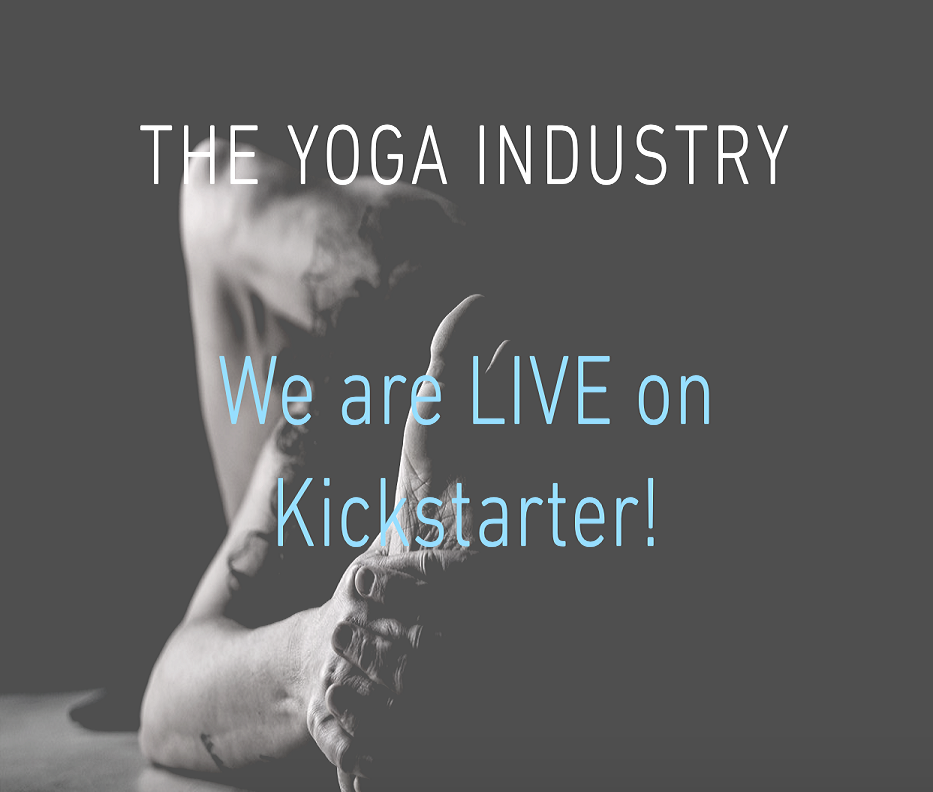 11 Mar

The Yoga Industry – A Documentary About What Yoga Has Become

This documentary will discuss the values of the now billion-dollar industry which has become fuelled by the lack of standards and accountability for yoga.
Why make this film?
Yoga is at a place of its evolution that there is a conversation here worth having. The film will talk about the ideals and values of the so-called yoga industry we see today and will question the direction and sanctity of what yoga may become tomorrow. Yoga has been redefined by marketing companies, social media and the fitness industry without any understanding for what gives yoga its definition. The commercialism of yoga has edited away parts of its fundamental elements to become more financially profitable, at the expense yoga's intention and its many limbs. To most of the Western world, we see yoga as beautifully achieved physical postures, six pack abs, executed in lavish apparel, penthouse studios, exotic beaches and instead of gazing inwards, the vanity-driven has adopted yoga to social media platforms.
In our efforts to protect the integrity of yoga, there needs to be a difficult but important discussion about the negative effects of the industry. To bring to the light these issues and create a conversation for what is happening but most importantly to show the alternatives to this mainstream yoga industry. A yoga that still exists offline, one that is not about clothing, latest equipment, Instagram marketing, tutorials or yoga diets. This is about going back to yoga's roots and open a wider understanding of yoga and its many lineages. To share the lives of practitioners worldwide who live with yoga in their own way who's efforts and intention is to maintaining their integrity of yoga in their teachings with their students despite economic pressures. We will talk about what the solutions can be and how we can do things better. Consequently, through conversation, we can inspire change for further generations.
Are we succumbed to the yoga evolution train to make a living?
Is yoga's evolution something we should embrace?
Some of the topics we will discuss include: 
The conveyor belt of teacher training courses and the many consequences as a result such as injuries and the watering down in teachings.
Social media's impact towards the image of yoga. The new age industry of Asana Instagram accounts and competitive marketing for the appearance of success in the industry.
The fitness industries adoption of yoga. Asana (posture) has been replaced by the term yoga. Yoga has been assimilated by #fitspo and being sold next to exercise forms such as CrossFit and Zumba. Now we have acro-yoga, nude yoga, 'ass and thigh yoga workout', bikini body yoga, beer yoga and even goat yoga!
Cultural appropriation: Yoga is a textbook example of taking something from another tradition, re-branding and diluting it and call it 'Yoga'.
#metoo in yoga: Fake Guru's. Unfortunately yoga has been associated with sexual abuse stories within the teacher and student relationship which is often silenced, much like we are seeing in many industries today. As a Film-maker and female I cannot ignore this issue.
If we do not acknowledge these issues we are also promoting them
Our Mission
This will not be another yoga documentary film.
As film-makers our mission is to create a platform to open this conversation to the public, create awareness and most importantly give a voice to many and show that this global community exists. We will be asking the industry some tough questions, interview a wide range of practitioners worldwide to  find answers and solutions. We are passionate storytellers who believe that awareness is the first step to change.
Use Of Proceeds
Making films is an expensive undertaking. The number of resources that can be dedicated to this project is directly correlated to the amount of funds we are able to raise. The more money we raise will mean that we will be able to interview a variety of practitioners in our efforts to open a wider understanding of yoga today. It is vital, for the purpose of the documentary that we have a variety of experts and experience practitioners from all walks of life.
So far, we have self-funded the research, pre-production and outreach costs and will continue to self-fund as much as possible.
All of the proceeds will go directly into the filming for this documentary.
Travel budget for filming interviews supporting footage and additional b-roll for filming locations
Crew accommodation and local transport for filming locations
Specific equipment rental
Crew fees
Miscellaneous (legal, permits, insurance).
Goal: €20 000 This is our minimum to commence the filming process. However the number of interviewees and collaborators will be limited as well as hiring extra film-crew. We will continue to look for further post-production funding.
Filming commences June / July 2018 starting in India
Filming and multiple interviews at World Yoga Festival 2018
Filming and interviews with European collaborators
Filming and interviews with US collaborators and yoga organisations
Here is a pie chart on how the proceeds will be distributed.
1st STRETCH GOAL: €30 000 and more 
Enables us to hire extra crew for the filming process for further interviews, B-roll which as a result will improve the quality of the film.
Start the lengthly post-production process – editing, colour correction & original sound score
More hours can be dedicated to the completion of the film which means we can deliver the film to the backers at an earlier date
Technical: The main production camera for this project will be the Canon EOS Cinema C100 camera with a versatile Canon 17-55 f/2.8 lens and array of Cinema prime lenses especially a 35mm T1.5 lens for the interviews. To maximise the camera potential and flexibility in post-production we will be recording the footage on external Atomos recorder to bypass the internal camera codec and increase the footage bitrate for post-production. For B camera and additional B-roll footage we will use the 4K Canon XC10 camera and Nikon DSLR cameras which will be also used to capture still images from our documentary journey. With the highest stretch goal we will be able to rent higher end Canon Cinema 4K cameras such as the new C200 or C300 MkII witch will also allow us to film some beautiful cinematic footage in 4K slow motion.
Why Kickstarter?
In the spirit of community and people's revolution, we are asking YOU, the people, to get involved and be part of the solution. This documentary is not our own, it belongs to everybody who supports this project and our message. We want to show how global this topic is. Having a community involved in making of this documentary also means that our message will be stronger in it's delivery and more the people will see this film and that is key. We are not focused on the amount of money people pledge, but the amount of peoplethat back the project. We promise to make every dollar count!
NOTHING…
Kickstarter is a all or nothing type of crowdfunding. Your account will not be charge, this topic will not be addressed and we cannot raise awareness about these issues to a wide audience.
Collaborators / Cast
World Yoga Festival 2018  http://www.yogafestival.world
We are happy to share with you that World Yoga Festival have agreed to have us film at their festival this year. Through this collaboration we hope to interview yoga masters from all disciplines and lineages of Yoga, Meditation & Wisdom. A valuable and unique opportunity. Have a look at their website for more about the festival and this years presenters (over 40 presenters!)
Maybe we will see you there?
Maybe we will see you there?
Interviewees
MUCH MORE TO COME!
We are a married couple in life and in profession. We are both multi-disciplined artists and work together as a team, Jamie being the Director and Creative Producer and Stanislav the Camera-man & Editor. We have worked together on numerous projects both artistic and journalistic and are driven to create a platform for conversation and raising awareness about topics which are dear to us. As a team, our works have been recognised internationally and have been recipients of various international film awards. We have always been proud to be a two-persons team accomplishing large scale projects together. Together we will be directing, producing and lead the main filming and editing aspects of the documentary. They are the creators of Motionhouse: photography & video collective and Memoryhouse Productions:  multi-media dance productions based in Brussels, Belgium.
Jamie Lee, Director of The Yoga Industry
Jamie is a multi-disciplined artist and storyteller through various forms. Jamie's recent work was selected for Women Cinemakers 2017 special edition celebrating female film makers from around the world. She is the Creative Director and Producer of Motionhouse and the co-creator of Memoryhouse productions a platform for her artistic creations with Stanislav.  ​
As a long time yoga practitioner, this documentary 'The Yoga Industry' has been a long lingering subject. Being a student of Yoga for many years, a multi-discipline artist & film-maker, this documentary was a natural progression. Jamie is not a yoga teacher or trying to sell a brand. Yoga has always been a private practice for her over the past decade. Tired of feeling powerless, she is very passionate about creating platform for conversations for subjects which people tend to shy away from. Jamie wants you to think about how much commercialism has affected our daily lives and invite people to be part of the solution.
Stanislav Dobak, Technical Director of The Yoga Industry
Stanislav Dobak is a multi-disciplined artist based in Brussels, Belgium. He is the co-creator of Memoryhouse Productions and the technical leader in Motionhouse projects. He is also passionate about raising awareness about this topic and use his skills to give back to the community to inspire change. Quality, purity and transparency are three questions he is personally curious to hear more about in this documentary. Stanislav will the main camera operator and editor of The Yoga Industry and will be responsible for all the technical aspects of filming processes as well as the post-production. ​
For more information
www.memoryhouseproductions.com
How can you contribute?
Donate to the Kickstarter and be part of this documentary community.  big or small, every bit counts!
Include this project in your monthly newsletter Help us spread the word by sharing our Kickstarter campaign to your community
Give us a like on Facebook, share the campaign to your social media platform & invite your community ​to our page
Are you a teacher and/or shala owner? How about hosting a class/workshop fundraiser to donate funds for our campaign? It is a great way to discuss this topic with your community and do yoga!
Facebook  www.facebook.com/yogadocumentary
Instragram  https://www.instagram.com/motionhousecapture/
Our website www.motionhouse.org/yoga
Thank you cards / postcards
Illustrated by friend and yogini Florence Weiser http://www.florenceweiser.com
Love from, Jamie Lee, Director of The Yoga Industry & Stanislav Dobak, Technical Director of The Yoga Industry
Kickstarter Campaign Link. Read more here and please donate so the production can get the show of the ground: https://www.kickstarter.com/projects/jamieleefilms/the-yoga-industry